Want to obtain that coveted Executive or Non-Executive Board position? How do you excel in a highly competitive market with the famously club-minded mentality of recruitment? 
Mastering the most effective pathway when contemplating how to get promoted to  Director can be summarised in two words: Personal Branding. 
At all times in your working life, but especially during times of career transition, your reputation is your most important currency. 
Personal Branding allows you to take control of your reputation and accelerate your opportunity with greater finesse and higher targeting. It makes you visible in a way that beckons Boards who typically look within an existing network for recruitment to notice you and your value. 
Personal Branding increases your visibility while allowing you to showcase not only the skills but also the characteristics that are essential for elite Directors to succeed. Characteristics that cannot be demonstrated on a resume.
In this article we overview the Board recruitment market, discuss the skills and characteristics recruiters are looking for, then offer some practical steps and professional examples of how to use Personal Branding to put you centre-stage in front of the decision makers.
It's designed to help you control your career transition and step into that pinnacle Directorship or Board position.
You might be interested in:
Many executives desire — and are qualified — to join a Board. And obviously, many organisations around the world greatly benefit from infusions of fresh talent and insight brought into their Boards. Board positions are executive and non-executive, paid and unpaid. Whatever type of position you seek, understanding how Board recruitment works is essential to your success. 
Often Board positions go to people who are already serving on other Boards. In the past, company Boards recruited almost exclusively from the ranks of current or retired CEOs, CFOs or existing Board members. 
Without knowing the candidate personally, Boards can feel unable to adequately assess a candidate's character to the level that they are ready to make a decision. 
You need a communications tool that not only puts you in the same field as candidates they already know, but places you at the top of the list.
The Personal Branding Solution
To win a Board role it's most helpful to review yourself  from the eyes of your audience. Assess your capabilities and characteristics against those required for the position. Then market yourself accordingly. 
Marketing for a Board position is discreet. No free steak knives. No blaring advertisements. 
The first step: Value Proposition
Distil your Value Proposition and communicate it with confidence, consistently – building a congruent and highly engaging story that integrates your personal character and life narrative with your professional achievements.
The second step: Create Visibility
Communicate what you stand for through your story by seeking speaking and writing opportunities that prove your Value Proposition. This will demonstrate an elegant fusion of your capabilities and Board-level character strengths. 

Personal Branding is where you demonstrate your value and reveal yourself through authentic, strategic communication that grows your visibility and empowers credibility simultaneously.
"For many executives desiring to progress to this next level there's incredibly high competition. You're in a pool of candidates who are the best of the best. Personal Branding is perfectly appropriate for the move to attain a Board position because it creates visibility necessary to introduce yourself as a thought leader to the right people."
– Trudy Johnston, Founder of Vim + Zest Personal Branding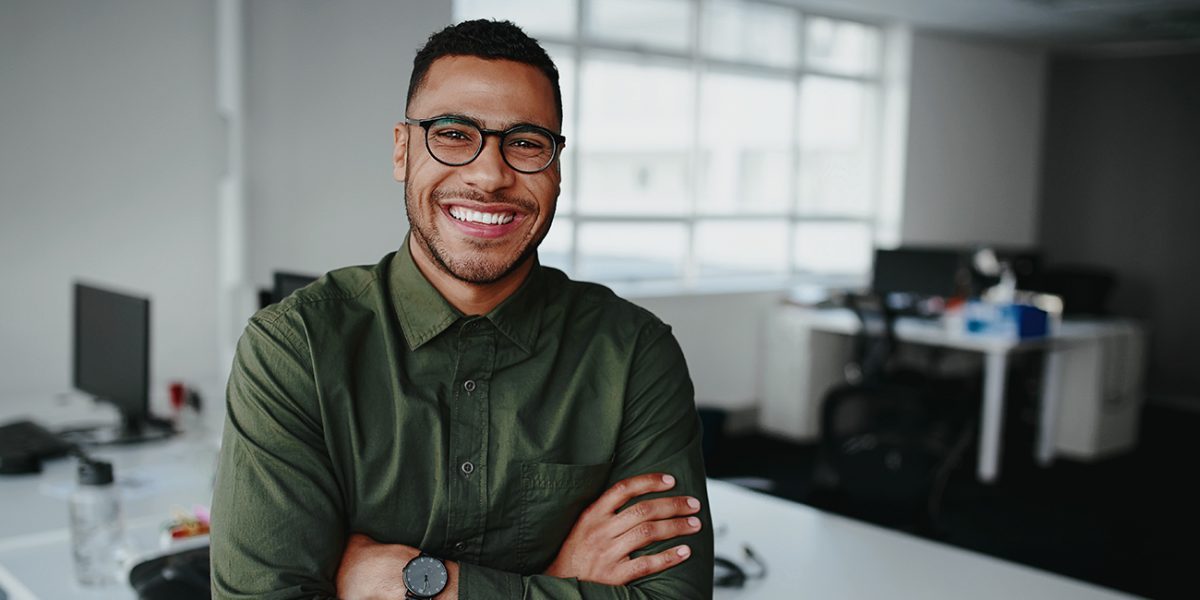 Why Attain a Board Position?
Serving on a Board provides new levels of professional growth and opens the door to further opportunities. Board positions:
1. Strengthen your professional credibility – a Board position is a highly visible public endorsement of your expertise and value. 
2. Grow your professional network – Board roles introduce you to a new network of often highly influential people from strategic partners, clients and investors to colleagues, industry and government leaders. 
3. Sharpen your professional skills – being a successful Director requires key skills that are applicable across any network. Think strategic vision, collaboration, performance evaluation and program funding. 
4. Reinvigorate your career – Board positions are often an opportunity to give back and make a positive difference to a company, industry and community. This sense of satisfaction is personally motivating, propelling you to take your career to all new levels.
5. New opportunities from Increased visibility – when you combine highly-influential roles, a growing professional network, enhanced skills and new-found passion, a Board position is often a catalyst to new opportunities. Allowing you the rare chance to sit back and assess new projects and chances that come to your door.*
So to take the next step, let's break down the practical steps of using Personal Branding to get promoted to Director.
"It's often the candidate's ability to demonstrate transferable skills that makes them stand out from the rest. Personal Branding sets the stage for you to showcase skills like risk management, corporate governance, a collaborative mindset and active listening in leadership."
Your Value: Hard & Soft Skills
Personal Branding excellence relies on mastering  your authentic story. The first step is knowing the plot. As mentioned previously, you need to be able to eloquently define your Value Proposition. It might sound obvious, but you need to start by understanding your capabilities, knowledge and achievements, and be able to clearly articulate these. Most people have a generalised view of their professional abilities. Those who excel have distilled the priority points of their professional, are crystal clear and succinct and know their 'why'.
In addition to hard skills, your capabilities need to extend to the characteristics that successful Directors hold. You need to be able to join these dots for those who are looking and not expect them to do the work it takes.
There are typically five characteristics or abilities that Board recruiters are looking for:
1. Critique and assessment of others – your ability to analyse performance, specifically that of the CEO, is pivotal to your success. 
2. Asking penetrating questions – as a Director you no longer tell people what to do, your role is to ask the questions that matter.
3. Collaboration and teamwork – you need to be able to demonstrate your skills in persuasion, teamwork and compromise.
4. Earn trust – are you able to build trust and re-build broken bridges when required.
5. Emotional Intelligence – Harvard Business Review states that emotional intelligence is the single most important quality to earning a seat at the Board.**
In developing the Personal Brand of an executive seeking a Director position, we identify the incidences and stories in your professional experience that demonstrate the above characters. These stories then create the basis of content that when shared through strategic Personal Branding tactics such as LinkedIn content and speaking engagements, you're building your credibility as a leading candidate for any Board position.
Let's now analyse how to build your Personal Brand with LinkedIn and other strategic personal Branding tools.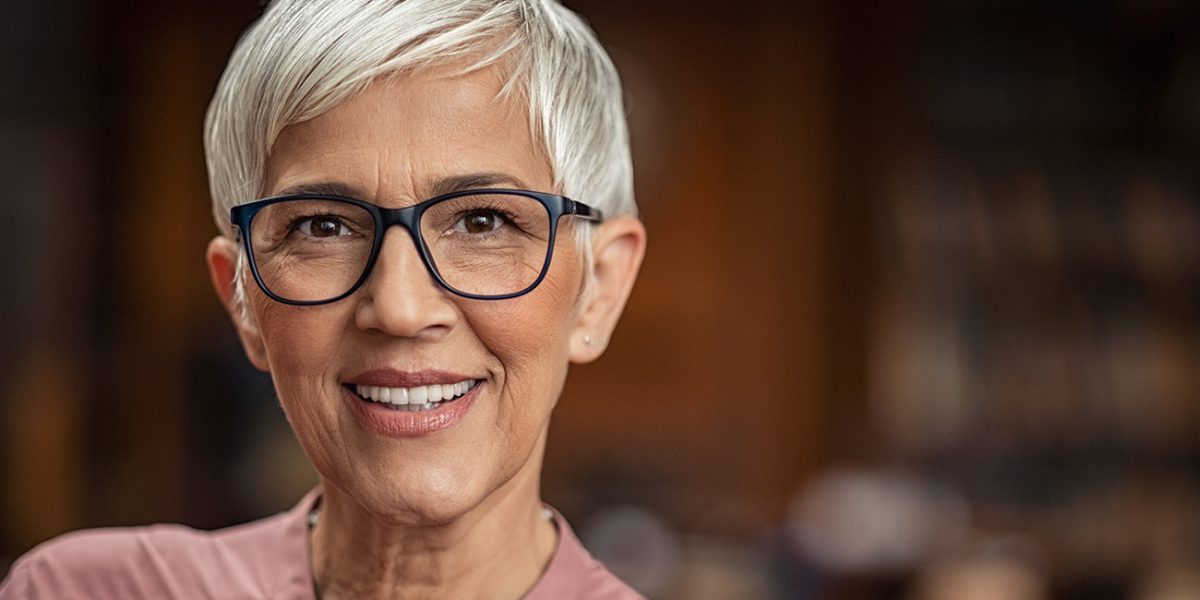 Visibility & Thought Leadership
Personal Branding supports you to build your boardroom Value Proposition. It speaks to why you are right for the position.
When considering how to get promoted to executive level, consider the people who make the key decisions. You need to be seen by existing Board members, the ones you hope to sit beside.  So what exactly are they looking for and how can you attract their attention? Knowing your audience is key. 
Be that person who enters their field of awareness as a thought leader in your own right. It's great to participate in the social conversation, but as a highly attractive candidate, you want be leading it. 
You might be interested in:
So How Do You Stand Out - as Authentic You?
Successful Personal Branding begins by anchoring why you do what you do – your values, your vision and your mission – and being able to tell your story with authenticity and confidence. 
To achieve a compelling story that is deeply engaging and helps people to remember you, your story must interweaves three components: 
1. Your personal narrative
2. Your professional achievements and
3. Future-trending subject matter of your industry sector.
Your story will form the basis of all your speaking engagements, social media, personal website (if you have one), and most of all, SEO content.
Visible thought leadership is created through owned content – your content that expresses your expertise and opinions. Content takes many forms. Long-form content includes articles, whitepapers, blogs, webinars and videos and short-form content is typically social media posts, which are usually snippets of your long-form content. Content needs to be contextually relevant, topical and add value for the audience. It should be always created around subject matter and themes that marry your subject matter expertise with your audience's interests and needs.
Use Content to Show Director Skills & Capability
By identifying the themes attributed to very skills required to succeed in a Director's role, Personal Branding supports the creation of an authoritative profile that allows audiences to build confidence in your ability to execute the role. Take that two steps further. 
Firstly, focus on generating content that is future-forecasting in your subject matter area. When you discuss what is future trending and how future trends may or may not impact your industry sector, you will rise to assume a leadership position in the minds of your audience. People are endlessly curious about what's trending and what our future world will be like, particular when the world is so uncertain. They are hungry to know how to navigate today's challenges and optimise tomorrow's opportunities. So speak to that – you'll significantly increase your Board appointment chances!
If your content is amplified in the press, you earn powerful third-party endorsement from television, magazines, radio or online media. This will fast-track your profile building and significantly amplify and widen your reach.
Secondly, visually upgrade your online profile. Employ all the elements of strong visual branding: logo, colour palette and typography and use this in your email signature, LinkedIn profile and professional website, if you have one.
Be Aware of the Seriousness of Reputation Damage
id you know that reputation is the number one risk concern for business executives around the world with 88% saying they are explicitly focusing on reputation risk as a key business challenge? 
Of those who have experienced the negative impact of poor risk management, 41% say that a loss of revenue was the biggest impact. 
Most alarmingly, of the 75% of US adults who Google themselves nearly half say the results aren't positive.***
We know that our professional reputation is one of our most important and irreplaceable assets. When there is organisational reputation damage it's not just the serious financial impact on the organisation that's at risk, there's also associated Personal Brand damage for its leaders. Therefore creating and maintaining a strong profile is key to building long-term professional resilience.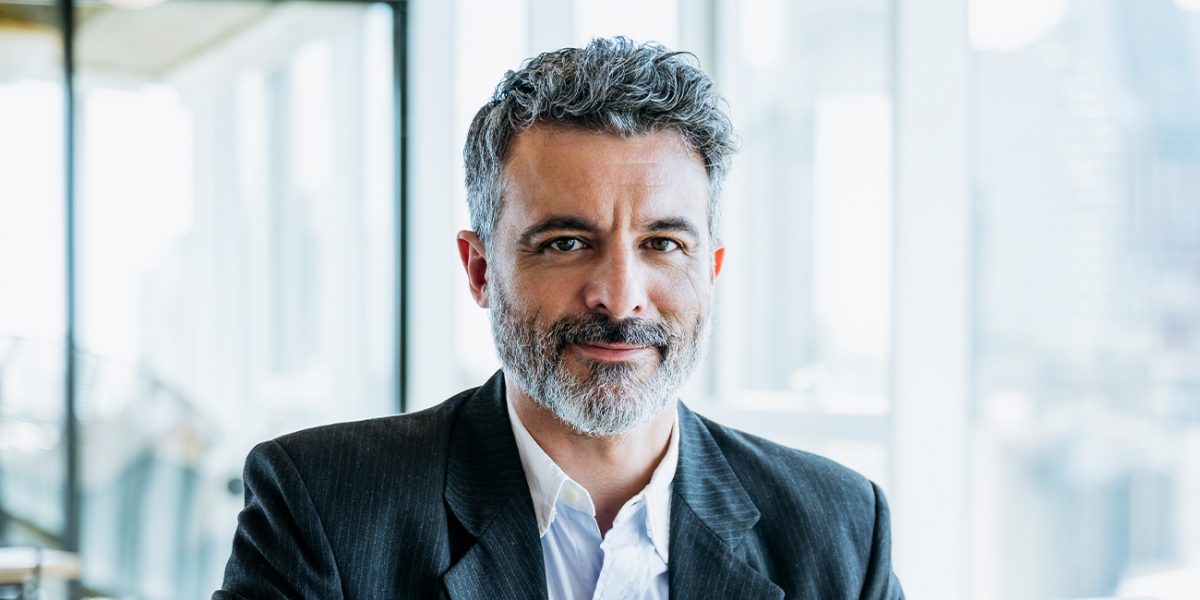 Professional LinkedIn Profiles as a Powerful Personal Branding Tool
LinkedIn for Executives fast-tracks Personal Brand growth.
"LinkedIn is the largest professional network in the world and its users are highly engaged because they seek to build networks that grow opportunities."
– Tiare Leahy, Digital Manager of Vim + Zest
All successful professional LinkedIn profile examples have these essential foundations well in place. 
1. A visually captivating cover banner image in the styling and colour palette of your Personal Brand. This is easy to upload free real estate – so use it!
2. A professional portrait of you with an uncluttered background that invites your audience to connect with you. Make sure that your image is face-on and your expression is warm and welcoming for your audience.
3. A clear position title. The position title is search-engine optimised and ranks well for the desired targeted position.
4. A compelling biography in the About section of your profile page. This introduces your audience to you and highlights why you do what you do, your mission with a brief overview of your career highlights. It's important not to replicate your CV  listed below your biography) leadership achievements. 
5. Biography snippet. Think of it as your Personal Branding Position Statement. At approximately 30 words in length, this opener is your introduction and encourages people to know more.
6. Your CV. A concise well-formatted overview of your professional experience, awards, education and achievements.
7. Endorsements. Use this section well to build third party credibility through your colleagues' endorsement of your skills and capabilities.
Now to Build Engagement for Your Professional LinkedIn Profile
Once you have your professional LinkedIn profile established, the second step is to activate your Personal Brand by building engagement. Strategically connect with leading industry bodies and individuals, and actively comment, like and share their content. 
"In the same way that speaking engagements grow your credibility, sharing original content that offers value, insight and practical information demonstrates that you have the skills to take on a Directorship. Sharing a direct personalised message is the most effective way to connect with someone. Briefly introduce yourself, tell them why you'd like to connect and potentially share a recent article you've either written or found which relates to their industry."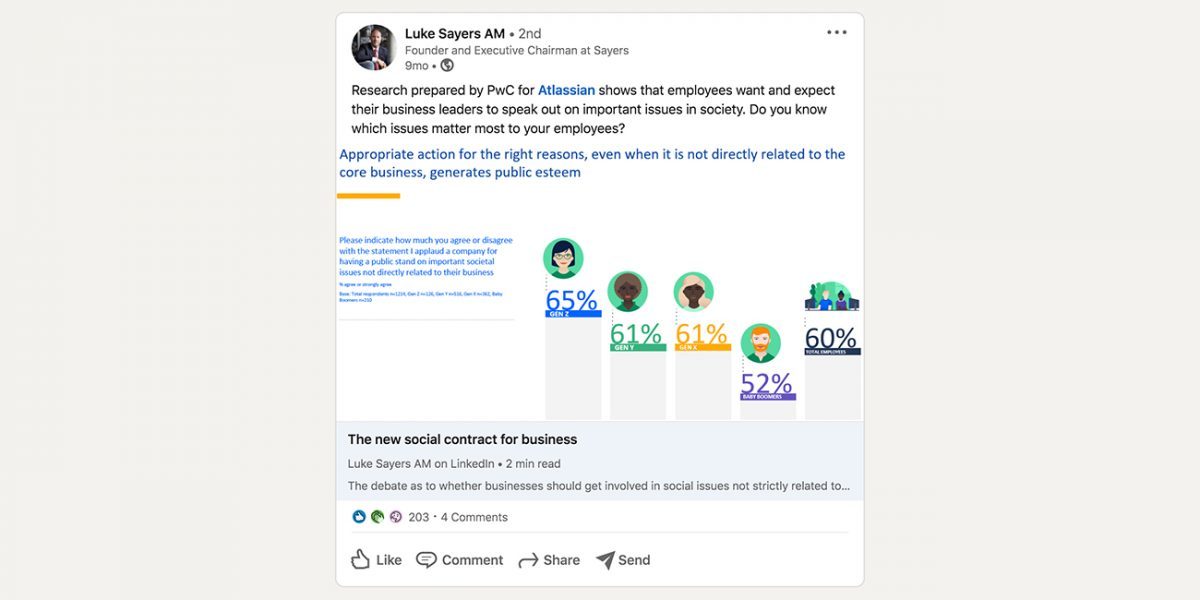 Lead the Social Conversation: Here's How
The final step in LinkedIn Personal Brand growth is taking a lead position in the conversation. 
As we've discussed, Personal Branding is the journey to grow your professional visibility and bring attention to your potential as a Board Director. The specific action steps discussed here are designed to build thought leadership and establish you not only as a credible leader in your industry sector but a highly desirable Board candidate. 
Creating thought leadership is both an art and science. It takes research, strategy and time. But the investment is well worth it. As a leader, if you post and share about current subject matter – what's happening in the world right now, you participate in the social conversation. This is a very good thing. As we've discussed, it's highly recommended that you speak about future-trending subject matter as a way of leading the social conversation.
See more recommendations on how to make your LinkedIn profile stand. 
Personal Websites: Seriously Increasing Personal Brand Visibility
The most powerful online tool is a highly engaging, search engine optimised Personal Branding website. A professional personal website can, and will, set a leader apart. Beautifully designed, filled with SEO-enriched copy, speaking engagements and a showcase of your professional capacities and achievements, a personal website offers an unsurpassed opportunity to capture online attention. Whilst not essential for an Executive making the leap to a Board position, it's so effective that the investment pays for itself, many times over  because it showcases an advanced level of dedication to your expertise and leadership. Importantly, you own all content if you have a website, not a third party provider.
Whether you have a personal website or use LinkedIn you must have a compelling, accessible and highly engaging 'digital home'.  
A personal website will have a more personalised tone of voice than an organisational website. Clearly articulating your WHY, it should have compelling strong story-telling, visually captivating design, imagery and video and retain consistency with all visual elements of your Personal Brand, including logo, colour palette, typography and content. It's essential that your website has strong SEO and content-rich so it's found easily on Google by the audiences you're seeking to build relationships with.
Case Study: From Health & Safety Leader to United Nations Speaker
Bobbie Foot is Head of Health, Safety & Environment for BMA and recently recognised as one of the 100 Global Inspirational Women in Mining, 2020. A world-leader in her sector, Bobbie is passionately committed to a Culture of Care and to adding social value and environmental custodianship on a global level. 
We developed a comprehensive Personal Brand strategy for Bobbie, which set a benchmark for leaders in her industry. By increasing her visibility and thought leadership, Bobbie was offered prestigious opportunities. On 8 November 2019, she spoke at the United Nations in Geneva about the impact that mine closure had on women and girls, specifically how the industry could apply a social value approach to operation. Since then she continues to be offered opportunities. 
"I credit the work we have done with Trudy to the large amount of personal growth and confidence I have achieved," says Bobbie Foot. "This in turn has led to some amazing extra opportunities for me."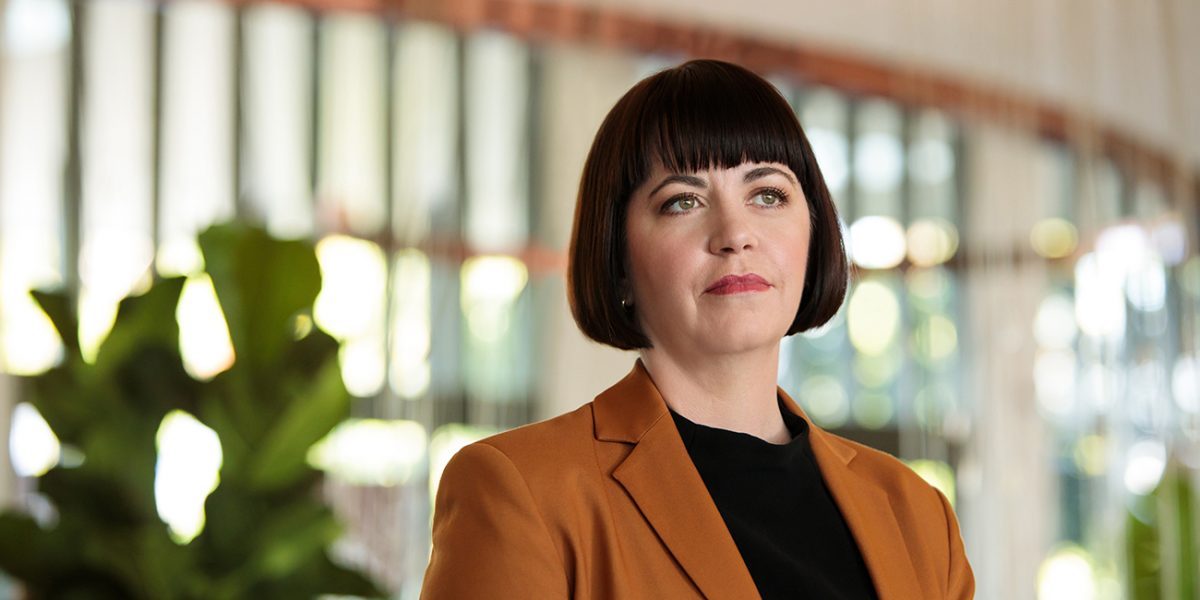 How to Get Promoted to Director: Three Personal Branding Steps
As shown, Personal Branding is the key ingredient to standing out as a leader to achieve a coveted Board position. 
Strategic Personal Branding creates a the pathway to showcase your authentic leadership style, demonstrate your specific leadership skills and become visible to the decision makers that can change your career direction. To summarise:
Visibility creates opportunity

– identify future-focused topics to build thought leadership, marry these with your unique story and amplify through content and engagement to give value
LinkedIn that opens doors

– employ the most powerful social media platform there is to engage and create conversation and harness the power of personalised outreach. 
Create a home for thought leadership

– build a content machine that feeds search engines, increases visibility and demonstrates that you mean business
"At this apex of career transition, executives simply can't afford to ignore the proven power of Personal Branding to open doors to Directorship roles that can change the course of a careers and leave an incredible positive legacy."
Vim + Zest Personal Branding is a specialist Branding and Marketing agency for people and organisations that matter. We help leaders to create impact to build a better world.
*https://www.ellevatenetwork.com/articles/7585-this-is-why-joining-a-Board-is-great-for-your-career
** https://hbr.org/2014/08/so-you-want-to-join-a-Board  
***https://www.entrepreneur.com/article/280371